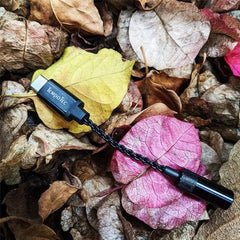 Pros
:
Output power
No hiss/noise
Good performance
Mic input
About me:
Music lover and earphone reviewer, most of my previous reviews are in spanish.
Disclaimer:
TempoTec graciously sent me the Sonata HD II.
Gear used:
Kbear Lark, blon bl05, Philips Fidelio X2HR
About Tempotec:
TempoTec is a company based in China conformed by a group of experts in the pursuit of "the best sound quality". You can find more in:
https://www.tempotec.net/pages/about-tempotec
*This is the newest and improved version of Sonata HD
Specifications:
Packaging, accessories and design:
The sonata HD II comes in a pretty small aluminum box that adds good protection to the device. Inside we will find a hi-res sticker, a USB type c to type A adapter and the dongle dac. Minimalistic is a word that can be used to describe the design of Sonata HD-II: it comes in black color and has a bright aluminum finish on both ends. The braided 4-core 6N single crystal copper cable has a soft texture, is very flexible and it's in the middle of the USB type C male and the 3.5mm input.
The overall design and materials are correct and has the expected quality for a $30 dongle dac. I liked his very small and light design that makes it a very transportable device that adds no bulk or extra weight to your phone.
Daily use:
Just plug it in to your phone and use your favorite music player to enjoy the sound of this dac. In desktop use (PC) it can be paired to softwares like roon or tidal, it will appear like "TT USB AUDIO" on sound configurations.
The overall performance of this device is good, after some minutes of use it gets warm as expected from this kind of dac/amps and it has a black background so you can easily use any sensitive iems without any issue. I usually test the amplifier power by using the Fostex T50rp and in this case I ended with positive results: the sonata HD II can be used with this power hungry headphone, there was good treble control and no audible distortion.
One interesting feature of this device is that it can be used with headphones with mic, i tested this function in Zoom meetings, mobile games and it worked correctly.
Sound
The sonata HD II has a neutral sound representation that matches with all kinds of earphones.
Bass: It has good extension and control, with headphones like Philips Fidelio X2HR bass is tight showing above average speed in transitions and attacks thanks to the extra amplification added by HD II. In songs like
Doomsday
by Nero the cleaness stands out over the weighty impact of bass so expect a very controlled and not accented lower end of sound.
Mids: The midrange has a slightly cold tonality that shows average level of detail. Instrument separation is good for this price range and a clear step above common phone dacs so just pair the TempoTec HD II to iems like Blon BL05s to enjoy good technicalities in the mids.
Highs: Treble is detailed and not much extended, it keeps good clarity and separation is good to listen to orchestras or metal bands where a lot of bright instruments perform at one time. Songs like
Спой Ветер, Спой Ворон
from Ambers Tears are a good example of this: Gritty voices have good separation from cymbals and electric guitars so everything is in place (using kbear lark).
Comparisons:
Sonata HD pro: This is the closest competitor in terms of price that i've tried, both devices have a neutral sound representation but HD II adds a little mid bass emphasis to it. The biggest difference are the level of detail and treble extension that are superior in TempoTec Sonata HD pro, this dongle dac provides a fuller midrange with better technical aspects and more transparency to the sound.
Conclusions
The main competition of the Sonata HD II comes from TempoTec itself with the sonata HD pro: a better constructed device with great sound and just a few dollars more. If you are on a tight budget Sonata HD II has good characteristics and solid performance but i highly recommend you to consider saving a little more to enjoy at least 2 times better sound with the HD pro.