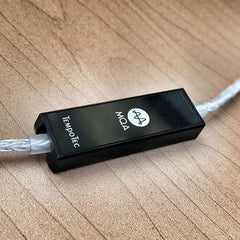 Pros
:
Beautiful Design
Mqa
Low battery consumption
Black background, no hiss
Hiby music certification
Mic support
Cons
:
Large volume jumps
No hardware volume
Disclaimer:
TempoTec graciously sent me the Sonata E44.
Gear used:
ATH AD-1000X, final b3, hifi boy osv3
About Tempotec:
TempoTec is a company based in China conformed by a group of experts in the pursuit of "the best sound quality". You can find more here:
https://www.tempotec.net/pages/about-tempotec
Specifications:
OUTPUT: 2VRMS
SNR: 128dB
THD+N: -112dB
OUTPUTPOWER: 70MW/32ohm
SUPPORT: MQA 8X
SUPPORT: TIDAL
SUPPORT: DSD128
SUPPORT: PCM 32bit/384kHz
MQA Decoding
HiBy music app
HiRes certified
70mw high power,low battery consumption
Direct Stream Digital DSD128
Aluminium-alloy body
Type-c port
3.5mm earphone port
Packaging and accessories:
Apart from being the newest usb dac/amp that TempoTec has launched, the MHD ($89) is also the first MQA compatible device that this famous brand launches to the market. This time the MHD comes in a basic cardboard box with some accessories inside like an USB type A to type c adapter, a hi-res sticker and small cleaning towels but sometimes through the official stores you can also get for free an USB type c to lightning adapter ($20) and a MQA hiby music subscription.
Like most of the customers that bought the MHD I also received the apple lighting adapter. This cable is soft and it allowed me to use my iphone with the MHD and the rest of dongle dacs that i have like the E44 from tempotec or the iFi go blue. No matter what kind of ios device you use, the adapter will be compatible with ios versions even lower than 14.6. One thing I liked from this accessory is the length it has, with just 9.3cm and a very flexible cable it can be adjusted in different ways to avoid being very bulky.
Design:
This new product also introduces a new feature in the design, if I'm not wrong, it's the first usb dac amp from the brand that includes a led light in its figure. Unlike the previous products of this type that tempotec launched that looked very elegant and sober, the MHD has a trendy and fresh design that looks even better once the led lights up. This led can change up to 4 different colours according to the file format that you play:
Blue: PCM 32-48kHz
Green: PCM 88.2-192kHz/ DSD64
Light green: PCM 352.8-384kHz/DSD128
Red: connected
The build quality of the MHD is good, it has a black aluminium chassis with the front and back faces showing the MQA and tempotec logos. The non detachable cable has a soft texture and is covered on both ends by a plastic protection. Based on my experience, I expect the cable to remain in good conditions for months without breaking.
On the laterals the MHD has 2 buttons that control the volume of your phone or computer. Unlike previous tempotec products, this is not a hardware volume control so the jumps are a bit higher especially if you don't use an app like audirvana or hiby music that allows you to control the volume with precision.
Daily use:
It's really easy to use this kind of device, just plug it to your phone or PC and that's it!
One of the main features of this device is its capability to support MQA files. I used the hiby music app on my phone and audirvana on PC to test this characteristic and it worked as expected. One thing you need to know is that if you want to play Tidal MQA tracks with the MHD first you'll have to download and buy the MQA hiby music subscription. This app is one of the best in the market for using usb dac/amps and it's fully compatible with the MHD thanks to the authentication that allows exclusive USB audio access.
TempoTec also claims that the MHD supponts calls and that's true, it will allow you to use any kind of headphones with a microphone and attend your online meetings or phone calls.
In terms of energy consumption the MHD is a very efficient device. Using my Google pixel phone, the MHD drained 10% of the battery in 30 minutes, while other similar products can drain about 30% in that period of time. Last, this device always keeps cold even after hours of use.
Now let's talk about the pairings: with sensitive IEMs I wasn't able to hear electronic noise or hiss and with high impedance headphones like hd600 this device produces a competent sound but it fails to achieve what other dongle dacs like the E44 or iFi go blue can do with these kind of headphones.
To be honest, I wasn't expecting it to drive high impedance headphones with ease because these kinds of devices are meant to be used with earphones and low impedance headphones like the MSR7b or X2HR.
Sound
I was very surprised with the sound of the E44, it delivered a wonderful coherence, great amplification and a performance over its price range. In this case the MHD sounds way different from the previous launch, the sound can be described as being dynamic.
In the bass region the device accentuates the mid-bass delivering a punchy and satisfying low end, the bass hits hard and the kick drums have more presence than usual. The elevation in the mid-bass is done in a natural way preserving speed, details and not feeling overly saturated with the earphones I tested. Sub-bass has a natural presence and in general it delivers a fuller bass response than most cell phones or computers.
I had mixed feelings with the performance of the midrange, with iems like the final B3 i found forward vocals that presented sibilance while with the Hifi boy osv3 or AME J1UX iems, the midrange was very transparent and resolving. Overall I find that the MHD has a better performance with warm sounding earphones, especially those who have a balanced or neutral sound because this device tries to push forward the details and sometimes you can feel the edges of the instruments or vocals.
Treble is the best part of the sound thanks to its neutrality and good separation. There's no congestion even with difficult tracks and the level of detail is good. With headphones like the ATH AD1000X the results are great, there is no harshness and the characteristic breeze that these headphones produce is there.
In general the sound has good speed, clean transitions and a competent technical performance. One thing to notice is that even though it has an intimate soundstage, the imaging is really accurate making easy to identify sounds.
Comparisons:
Tempotec e44: The e44 is one or two steps above in sound quality and level of amplification, it presents more coherence, a better extended bass and a natural smooth midrange. One of the biggest differences is found in the transitions and speed of the sound, the MHD sounds more energetic and engaging, the small lift in mid-bass gives the sensation of a punchier low end while the e44 sounds more relaxed and overall the sound is weightier.
Midrange is also very different, the e44 presented more texture no matter which headphones I used, vocals had a better timbre, more body and never sounded sharp or aggressive unless the recording required it.
In terms of soundstage, both have similar width and depth but the e44´s ability to define and recreate the stage has no comparison. With full size headphones this was notorious and the difference in power output also had a big influence especially in the bass performance and density of sounds.
One big advantage of the MHD is that it has the MQA tech inside so this can be a decisive point for some buyers looking to use tidal. Finally i think that the e44 and MHD are products for 2 different types of customers, the first one is for a more experienced audiophile and the latter for a person looking for a more versatile device.
Conclusions
Tempotec keeps improving and launching attractive products to a very competitive market. I liked the new features they added to the MHD and I hope they launch a newer version of their portable dac amp, the idsd plus or even an improved version of the E44.

Finally, MQA and the possibility to make phone calls are the 2 main features of the MHD, it has a solid build, attractive design, enough power output for most of the earphones and it is easy to use. In terms of sound this is a competent dac/amp when compared to products like hilidac beam 2se or sonata hdpro but it fails to reach the level of the E44.