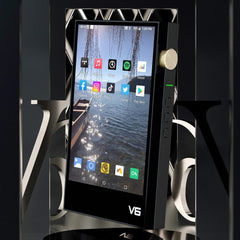 V6 is the first Android-based HIFI player in the Variations series of TempoTec, and it is probably our only Android HIFI portable player.
Why we design V6
Here are simple explanations in 4 parts.
Processor and screen
For V6, we use Snapdragon 425 and 720P touch screen. Why we choose Snapdragon 425? Because of the low cost, we can invest more cost in the analog circuit on the basis of the reasonable selling price. Snapdragon 425 is enough to listen to music! Actually, there is no audio app that it can't run smoothly. Let me state that V6 is not suitable for playing games! The 720P screen is also for low cost.
Digital clock circuit
The V6 digital clock part is used a high-precision active crystal oscillator and FPGA, oscillator provides a stable clock source, and FPGA is used to remove phase noise. After so many years of audio product design experience, we have found that phase noise has a greater impact on sound quality than accuracy.
DAC chip
The V6 adopts two AK4493SEQ for digital-to-analog conversion. TempoTec always like to use AKM chips. Since the first desktop DAC 'Fantasia' in 2005, AKM 4396 has been used, because we like AKM's transparency in high frequency.
Analog circuit
The analog circuit of V6 is a more elaborate designed part, and it is also the first time we have done a more complicated analog circuit. That because we are facing a different listening system this time. In the past, the desktop decoder was mainly used for the speaker system. The low frequency of the speaker system was basically solved by the size of the woofer. However, when the headphone system is inherently limited, it is necessary to further optimize the sound in the analog circuit. Fortunately, through the careful adjustment of the four versions of the analog circuit, we have retained AKM DAC's original transparency and spirituality in the mid-frequency and high-frequency, considering AKM's chip lack of low-frequency (bass), we also designed the circuit to achieve the cohesion and dive depth of the low frequency.