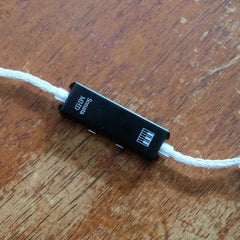 Everyone knows TempoTec is capable of making high quality dongle DAC, if you follow closely Chifi Audio Facebook group, then you already know that Andy FE (If you not yet discover his review on the dongle madness', you must checked it out) claimed highly on the TempoTec E44 and Sonata HD Pro dongle, and Yannick Khong (I highly trusted his ears and he is the one poison me on the HZ Sound Heart Mirror and Fengru TC200) is really enjoying what the Sonata HD Pro is capable to deliver. I must be the fortunate one because able to test almost all of their dongle product line (excluding the E44).
To my ears the Sonata HD Pro is pretty amazing for the size and money, and the successor E35 is better in a sense of more natural sonic presentation, so the million dollar question is, how can Tempotec make something better than the already amazing product?
I guess we all can find the answer in the Tempotec MHD that I am going to review today.
Tempotec MHD (89USD from Aliexpress)
| | |
| --- | --- |
| Pros | Cons |
| +Nice technical capability but doesn't sound sterile/emotionless at all | -The glossy surface is a fingerprint magnet |
| +Neutral and balanced, but nicely bodied sound | -Should have marked '+' and '-' at volume controller |
| +Respectful soundstage size | -'only' DSD 128 supported max |
| +Good speed and transient respond | -No window Asio driver/firmware available at the moment of writing |
Tempotec MHD Key Features:
Advertisements
8X MQA Unfold capability
Output: 2Vrms
SNR: 128dB
THD+N: -112dB
Output Power: 70mW @ 32 ohm
RGB light indicator, 3.5mm single ended output, type C connection (with an apple cable included in box), Side mounted volume controller, FOC MQA subscription for Hiby Music Apps
Windows, MAC, Android and IOS supported, with an USB A adapter included for computer use
DSD 128 and PCM 32bit/384 kHZ supported
Perhaps the biggest headlines now is that the MHD is capable of fully supporting MQA at 8x. I don't want to get into an argument on MQA in this review, MQA or not (audiophiles can argue on everything) I will review the MHD mainly from a sound quality perspective. Personally, though I am happy to see MHD supporting MQA, I treated it as an alternative, I am not happy on the price hiking though, but I think it is normal that we see manufacturer tends to up the price (however the MHD actually FOC MQA subscription voucher for Hiby music apps and an Apple device cable in the box) every time they release new product.
First thing I noticed when I was unboxing the MHD is how small the MHD really is, for comparison I put it beside the Tempotec E35 and aside from slightly thicker, the width and length is noticeably smaller than the E35. Build quality is usual Tempotec's strength, the MHD has nice build quality and finishing, unfortunately though, it is still a fingerprint magnet. As for time of writing, there is no ASIO driver or firmware that I can download at TempoTec official website, I really hope TempoTec will release the firmware as soon as possible, although I am not worry too much since TempoTec is good at updating their firmware etc.
The MQA worked nicely with Tidal on PC and Android native apps, it also worked nicely on Hiby Music, whenever you play MQA files the RGB light on the MHD will indicate purple light, which in my opinion is very nice looking. The RGB light actually indicate different colour depend on the status of the MHD (Red when you are not playing anything, blue for PCM 32-48kHZ etc)
I really don't have much to say and feel quite bored, can we directly jump to sound quality?
Audio Quality
Advertisements
The TempoTec MHD has been burned in more than 50 hours before assessing it. I used it on the PC (Tidal Native Apps – Exclusive mode and Foobar2K), Android (Apple Music, Hiby Music Exclusive mode with MQA subscription and Tidal Master). I mainly use HZ Sound Heart Mirror to assess the Tempotec MHD.
             I will compare the MHD with the E35 later on, now let's just talk about how the MHD sounded. MHD's sound signature as usual, is balanced and neutral, but this time MHD is capable of sounding natural without a hint of sterility. Generally I am surprised by how transparent and bodied the MHD is. From my initial listening I already knew that I love how it sounds immediately.
Compare with TempoTec Sonata E35 
             If you are curious which to get between the MHD and E35, I will say get the MHD, not only because it can fully unfold MQA files but also because the MHD simply sounded better. I made a few comparisons with E35 and the differences are very noticeable.
             MHD has more body in the sound, and now the soundstage is noticeably wider. Bass has more impact as well with better texture, everything just sounded tighter, upfront and more transparent. Vocal appeared to be smoother (with less edge). One thing with E35 that I didn't like is the vocal performance is a bit dry sometimes although it is better than Sonata HD Pro in this regards, but MHD simply defeated them in this regards, the vocal sounded really nice. I will also go as far as say that MHD generally sounded more 3 dimensional too. MHD is simply a more mature and successful product than the predecessor.
Final Thought
So you probably noticed that I like the MHD very much. However, we really need to be realistic on what should we expect from such a small DAC dongle, it will not going to replace the higher price desktop system for sure, especially on the imaging/positioning, driving power/headroom and layering of music, dongle is definitely good enough for everyday music enjoying and listening, but to say that it is as capable and technical superior as full size desktop system is not possible yet, that being said, I am perfectly happy with what the TempoTec MHD achieving here and I will not hesitate to enjoy music out from it, at all. Will I recommend the MHD? Hell YEAH for sure!