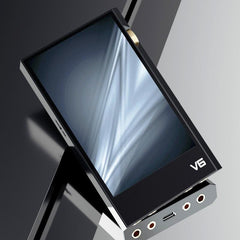 "the sound treatment has been TempoTec's priority and that is something that is noticeable even on a quick listen. And I believe that this is the differentiating element compared to the competition." 
"The TempoTec presents with a quite detailed and open sounding signature. It made everything sound larger and far better than on other equipment. There is good separation and lairing and it for the most part is neutral but far from boring."
"The V6 is also silent as hell. I cannot hear any noise ongoing, even though some sensitive headphones. The grounding on this DAP is fantastic and I hear no hum, no static, nothing."
" A dedicated earbud, with surprisingly good sound, the mids came across as rich and with very good width. This adds to the soundstage nicely, which the V6 has with good abundance. "
"The V6 offers a clean, smooth and pretty balanced sound presentation with lots of power, thanks to the its good implementation of AKM's Dual AK4493SE DAC Chip and a special designed audio circuit that comes with 2*OPA1612 + 4*OPA1688 Op-Amp's."
"The TempoTec V6 is unbeatable in this price range with its design, specs, and audio performance. It's one of those players that have a distinctive sound signature with unmistakable characteristics."
"全体的にカッチリとした分離の良いハッキリとした鳴り方なのですが、音の輪郭に強調感は無く純粋に高解像度な引き締まった音という印象があります。"
Share the video Reviews