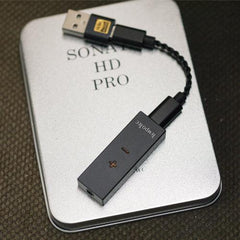 Source:

Purchased at a discount for the purpose of a product review.
Miscellaneous:
Unboxing experience nicer than expected – decent packaging with accessories such as a micro USB to USB-C cable, USB A to USB-C adapter (made of metal just like the cable's plugs) and a Hi-Res sticker.
A cheap feeling carrying case that is made of metal is included as well – I would have preferred a zipped pouch or hard case, but it's still better than nothing at all, and nicely padded on the inside.
Nice build quality and finish.
I like the design.
Nice translucent orange volume control buttons.
I don't like the big DSD logo etching on the back of the device.
Reasonable size.
What I really like is that the female micro USB socket feels solid and that one can use any suitable cable with the DAC.
Short connection cable is supple and looks nice.
Unfortunately there is no LED/operation indicator.
What's definitely nice is that it automatically detects whether a 3.5 mm plug is inserted or not and accordingly enables/disables the output (doesn't show up in the Windows sound menu anymore if the headphone jack is plugged out).

Sound:

My ZOTAC ZBOX CI547 nano running Windows 10 Pro 64 Bit is the only source that I'm using.

I'm only using my Sonata HD Pro in 16 Bit 44.1 kHz mode, just like any other DAC that supports the Red Book standard.

Volume Control:

Independent hardware volume control on the HD Pro (12 steps without any muting feature) in addition to the source device's digital control.
Coarse steps; I would have wished for more than 12, but ultimately the independent control is a definite plus as it allows for finding a desirably quiet listening level even with extremely sensitive in-ears as well as quick volume adjustments while listening to music or watching a film without having to interfere with the Windows software slider.

Tactile activation point neither too stiff nor soft – ultimately somewhat more on the stiffer side.

The last volume setting seems to be saved.

Hiss Performance:

Practically hiss-fee – even less audible hiss than my Apple USB-C to Headphone Jack Adapter (A2155) that is already among the very best devices on the market when it comes to hiss performance with extremely sensitive in-ears (such as my Campfire Audio Andromeda and Ostry KC06A) regardless of price point. Hiss only becomes more audible with extremely sensitive IEMs when used at higher hardware volume control settings.

Even quieter than my RME ADI-2 DAC from its PHONES output and just a hair "hissier" than its IEM output that's basically hiss-free (just the tiniest, slightest imaginable bit of hiss audible with my Andromeda on some days with very high concentration) – that's definitely state of the art hiss performance and among the best of the best devices in this regard.

Frequency Response (no Load):


No surprise here – as flat as it is supposed to be, with a slow roll-off filter applied.

Output Impedance (Ultimate Ears Triple.Fi 10 as Load):


Based on the frequency response deviation, the output impedance is calculated to be below only 0.2 Ohms, which is very low and therefore perfectly suitable for all low impedance multi-BA in-ears with a high impedance swing.

Subjective Listening Impressions:

Neutral, clean and audibly transparent with no abnormalities that could be heard. No real surprise since independent objective measurements indicate excellent performance anyway.

- - - - - - - - - - - -

Compared to my Apple USB-C to Headphone Jack Adapter (A2155):

With the Sonata's software volume being set to 100% and its hardware volume to 1/12 and, and the Apple's volume set to 1%, the Sonata's base volume is lower, which is a definite benefit for me, and since it can be further lowered using the Windows software volume, listening very quietly just barely above the audible threshold is easily possible even with extremely sensitive in-ears.

Sonata ever so slightly "softer"/"smoother" cymbal/high note edge rendering in direct head-to-head comparison with extremely sensitive, low impedance in-ears – Apple "harder"/"sharper" in comparison, which is about the only "big" audible difference in terms of small, subtle differences that one may or may not perceive (pretty much only) in a direct head-to-head comparison (definitely a matter of individual preference, and I slightly prefer the Apple's "harder" presentation in a critical listening, direct a-/b-comparison scenario whereas I don't care much at all for concentrated but more recreational music listening), with the only other nuance of differences that I can perceive in this forced direct comparison being the spatial reproduction that appears slightly smaller but with a more "focused" centre image on the Sonata aHD Pro nd a "wider" presentation on the Apple that however results in a slightly "less focused" centre image image presentation when compared to the HD Pro (something that I personally probably prefer on my TempoTec a little over my Apple, but then again only really in a direct "critical" comparison whereas the small difference in spatial reproduction becomes much less obvious with a bit more time between switching between these devices).

Take what you want out of this more "critical listening" focused direct comparison (conducted with very sensitive, low impedance in-ears – as it is true in most cases, there should be no audible differences with inefficient, lower sensitivity full-sized headphones since those minor differences described just above that may be audible in a direct comparison when extremely sensitive low impedance IEMs are used as critical loads are already gone entirely when I use both devices with less sensitive, higher impedance in-ears) – what's very clear though is that both devices are perfectly clean and audibly transparent, neutral sounding.

Realistically speaking, the Apple USB-C to Headphone Jack Adapter (A2155) already offers nearly top-tier audio performance despite its super low price (after all it is audibly transparent thanks to objectively surpassing CD Red Book standards and) and is only despised by some people because of their anti-Apple and anti cheap audio products bias; so except for being even closer to being entirely hiss-free with extremely sensitive in-ears than the Apple dongle already is when an "empty" audio file is played, it is mainly some additional useful features (additional and independent analogue 12-step volume control and micro USB input; although at the cost of some of the Apple's features missing (in-line remote control commands and in-line microphone support)) and build quality/appearance as well as accessories that make the Sonata HD Pro a device that is worthy of costing more than the A2155, with both performing excellently when it comes to audio reproduction with critical low impedance, high sensitivity loads (the TempoTec even a little more so despite being priced comparatively very low as well).



Conclusion:

State of the art hiss performance with extremely sensitive in-ears, very low output impedance, and otherwise very good objective acoustic measurements as well. Ability to listen very quietly just above the audible threshold thanks to the incorporation of additional independent analogue volume control (unfortunately only 12 coarse steps, though).
Last but not least, the accessible pricing is very fair as well, and even without keeping the price in mind, the Sonata HD Pro is one of the very few small, portable USB DACs that are able to match or surpass the Apple A2155 USB-C to Headphone Jack Adapter's objective audio performance.

Photos: