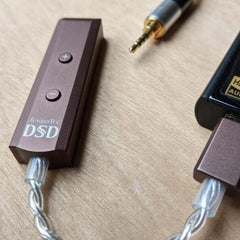 Pros
:
Warm and detailed sound
Price
Cons
:
Non detachable cable
Big jumps in volume buttons
About me:
Music lover and earphone reviewer, most of my previous reviews are in spanish.
Disclaimer:
Tempotec sent me the BHD in exchange of my honest opinion
Gear used:
Tempotec BHD Sonata, Tempotec IDSD plus, blon BL05s, Kbear lark, audiosense T800.
About Tempotec:
TempoTec is a company with headquarters in China conformed by a group of experts in the persuit of "the best sound quality". You can find more in:
https://www.tempotec.net/pages/about-tempotec
Specifications:
Exclusive 2.5mm balanced input
* DAC chip: Two CS43131
* SNR: 129dB
* HP Out : 120MW/32ohms 20MW/600ohms
* Level: 2VRMS * THD+N: -113dB
* Crosstalk: greater than 118dB (32 ohms)
* PCM : up to 32bit/384kHz
* DSD : to DSD256 (NATIVE) DSD128 (DOP)
* Hiby Music APP: Support exclusive
* PC: Exclusive ASIO driver
* Volume control: independent hardware volume control
Packaging and accessories:

BHD sonata comes in a small black cardboard box, it has a solid packaging and delivers a satisfying unboxing experience. Inside of this box we can find a female type-c to male USB-A adapter, hi-res sticker, a pretty brown leather case and the sonata BHD.
How to use?
Just plug in this device to your phone or computer and enjoy. With some windows computers its necessary to install the official driver that can be find here:
https://www.tempotec.net/pages/firmware-download
Also some android devices require third party apps like usb player pro or hiby music to play your favourite music.
Construction
The sonata BHD has a solid construction, it´s made of metal and it feels light and durable. We can find 2 physical buttons to control the volume, this feature is independent of the software volume. The cable is non detachable and the type c connection is gold plated.
Daily use:
The light weight of this dongle dac makes it very comfortable to use, also thanks to the metal finish it doesn't get hot. I would like more precise volume buttons cause the jumps in volume are big.
As we know, the BHD consumes energy from our devices, it drained my phone's battery 10% faster so i consider that very average from a dongle dac.
What about power output? The BHD sonata can drive almost every iem on the market, it has a black background so there's no noise/hiss with sensitive iems and the power it delivers is enough for headphones like sony MDR1am2 and not over 200 ohms and i would say.
Sound:
Warm and detailed are two words that can be used to describe the BHD sound. This sound signature is very different from the neutral and resolving sound of the hd pro or the idsd but close to v1a.
Bass:
It's the only part of the sound that is accented, it delivers a deep punch without losing control and keeping the mids clean. Subbass is present but not as emphasize as mid bass. It has average speed and is not as detailed as the portable dac/amp IDSD plus, it also can sound with a soft impact compared to more neutral devices like Q5s or sonata hd pro.
Mids:
They present a very neutral-warm response without extra coloration so voices and instruments aren't emphasized and sound correct. The lower part of the midrange has enough weight so voices present good texture, the rest of the midrange have a solid technical performance with above average soundstage, precise imaging and outstanding instrumental separation.
Highs:
Treble presents a softer representation so it doesn't add more brightness to earphones, instead it can control very well bright iems like Kbear Lark "4k". The BHD delivers enough air to our earphones and has good clarity without being very detailed in this part of the sound. Layering is above average although the midrange has better implemented this aspect of the sound.
Pairings
Blon bl05s: The sound of the blon´s improves in almost every aspect, soundstage has more depth, bass gets a solid punch, mids have better detail retrieval and treble has more control. Its great how good sound you can get with only your smartphone and this combo.
Audiosense T800: This earphone needs a high quality source to sound in its best and the bhd delivers what is needed. Highs have the dynamism and speed that characterizes this iem, the tridimentional sound of this earphone is present and bass has that deep punch although i prefer neutral sources as pairing with the t800.
Comparisons:
Sonata HD pro: The new BHD sonata is clearly an improvement in sound quality, we lose the neutrality of the HD pro but we also gain more dynamism, better instrument separation, more soundstage, a deeper bass and overall a more mature sound.
Tempotec IDSD plus: This portable dac/amp is one step above in sound performance over the sonata BHD but it's also pricier. The sound of the IDSD plus is more neutral and better technically, the transparency of the midrange is one of the biggest differences, the bass is softer in the BHD and treble has better extension in the IDSD plus.

Conclusions:
It´s great how good sound we can get from this small devices, for 70$ you get a solid performance and high quality sound without carrying more than your phone. Of course the only cost is that we have to use 2.5mm connection but if you are ok with that, this device is for you.